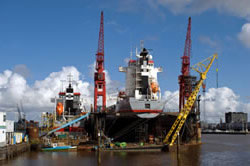 "The shipbuilding industry is constantly evolving with new innovative products being introduced into the market place. LMS meet s those needs"
The Shipbuilding Industry has constantly evolved over 1000's of years. Many products and systems in place today existed in a simpler form and have simply been re-engineered to work efficiently in modern times.
Modern builds today includes ships in the merchant sector, including oil tankers, oil support vessels, cargo vessels, barges and tugs. In the leisure market we have luxury cruise liners and commercial ferry operations.
All these vessels have a common need for particular equipment to handle aspects such as vessel mooring, anchoring, lifting, winching and access.
Lifting & Marine Services Limited provide a comprehensive range of marine products for new ship builds which are supplied in accordance with all the major classification societies.
Shipbuidling Products
Standard & Bespoke Products
LMS provides high quality equipment and can also produce bespoke units to your exact requirements.