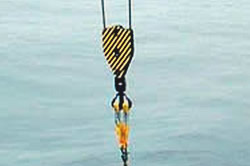 "With an extensive range to choose from, our crane blocks can be used in a multitude of industries and meet all the required safety standards"

Our crane blocks are durable and cast from the finest quality materials Lifting & Marine Services Ltd is a leading designer and manufacturer of high quality and durable Crane Blocks which are used extensively in the marine onshore, offshore and heavy industry sectors.
Overview
Our wide range of blocks can be used in numerous working applications which include electric overhead travel blocks and mobile blocks. The side plates are manufactured from high strength low alloy steel plate and the blocks can be supplied with a variety of options including single or double sheave, with lifting hooks and crane swivels.
Our onshore crane blocks are designed and manufactured 'in-house' and can be 'bespoked' to refit an existing crane or can be engineered for any new project build. All LMS crane blocks are supplied complete with proof load certification. We also have the ability to supply blocks which are fully compliant to all the safety guidelines covering lifting equipment in the nuclear industry.
Material certification to 3.1 and 3.2 levels of traceability is available on request.
As LMS has the full capability to produce bespoke crane blocks, we invite you to contact us with your detailed requirements. We also have the capability to refurbish existing crane blocks already service and thus prolong its working operation.
Key Features
Designed and manufactured in-house (all onshore blocks)
Can be designed to fit into existing installation or new project
Numerous supply options available
Ideal for onshore, offshore, construction, power generation, nuclear, and heavy industry