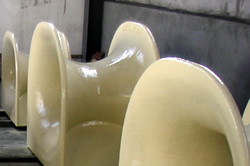 "More information about Panama Bows (referred to as Panama Chocks) and the range which Lifting & Marine Services Limited can supply directly to you "
Panama Bows (or chocks) are used in heavy duty shipping applications and are essentially deck fittings which act as a guide to feed a line in a particular direction to boost efficiency and protect the rope from undue wear and tear due to a significant reduction in abrasion. This in turn will prolong the operational life of the rope in use.
Overview:
They normally form part of a standard mooring setup which set in between a mooring bollard and ship bitts on the deck. Cast from high quality steel, the Panama Bow is normally painted or galvanised to protect it from harsh weather conditions and the effects of salt corrosion. The supply condition of these particular units means that they can be installed on deck more or less immediately.
Panama Bows are either deck or bulwark mounted – they can also be supplied with a heavy duty base plate which can be bolted down on to a plinth.
LMS provides a wide range of Panama Bows specifically for industrial shipping applications and can be found on merchant vessels, tugs and barges.
Standard Features:
Simple, effective design which prevents wear and tear on mooring lines
Cast from high quality steel
Paint primed or galvanised
Deck or bulwark mounted
Compliant with Vis, NS & DIN specifications