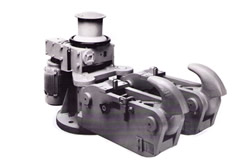 "Promoting safety & reliability, our Quick Release Hook Range can be used in both mooring and towing applications. Our equipment is of the highest quality and easy to install"
Specifically designed for mooring and towing applications our Quick Release Hook Range is engineered to operate in the most severe marine environments.
Offering excellent safety and reliability, our quick release hooks are constructed from high quality materials and are easy to install. Our equipment can be supplied to classification society standards and we offer numerous options including electric, hydraulic and pneumatic release systems.
Our equipment range can operate up to a safe working load (SWL) of 200 tonnes.
To find out more about our Quick Release Hook range including technical datasheets, please click on one of the product links below: