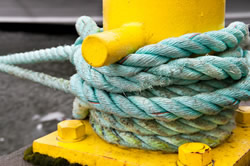 "Ideal for mooring and towing applications, our Cruciform Bollards are fabricated from high quality steel and can be supplied to you primed or galvanised and painted"

LMS fabricate and supply an extensive range of single and double cruciform bollards to cater for your mooring needs.
Overview:
Fabricated from high quality steel, our cruciform bollards are suitable for use with wire and traditional ropes and can be used 'on deck' or at the quayside dependent on the size of unit you require.
In effect, the bollard can be used to provide secured mooring or be used for towing purposes.
As a leading fabricator of cruciform bollards we also have the capacity to be able to fabricate the product for you to your exact requirements. Our standard range caters for a nominal diameter from 100mm to 800mm. As with the majority of our products, we can also supply cruciform bollards to you which come with full material certification if requested.
Our bollards are supplied with a primed finish or can be galvanised and painted on request.
Key Features:
Single & double cruciform bollards
Nominal diameter from 100mm to 800mm
For secured mooring or towing purposes
Can be supplied stockless or fully balanced
Can be deck or quayside mounted
Primed finish or can be galvanised and painted on request