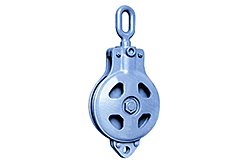 "Used for general purpose lifting, our cargo blocks can be supplied from stock or be custom made to your requirements"

Our cargo blocks are an excellent choice for general lifting and rigging purposes Lifting & Marine Services Ltd manufactures high quality Cargo Blocks for the general lifting and rigging industry.
Overview
Our cargo blocks are fabricated to suit a variety of wire sizes or can be made to suit your individual needs. The blocks are proof loaded to four times the safe working load and are fitted with taper roller bearing sheaves. The sheave pin and head fitting is supplied grease lubricated. The blocks are supplied paint finished. We also offer alternative bearings, head fittings and finishing types on request.
LMS are a leading manufacturer of cargo blocks which are made and tested in the UK and are designed specifically to meet the specific standards of a wide range of general purpose lifting applications, and can be used in the marine and offshore industry, and the construction sector.
Whatever your requirement, we can produce blocks that will suit your everyday needs. Please refer to our technical PDF which is available for download, and shows examples of wire rope capacities and safe working loads.
Key Features
Proof Load 4 x SWL
Fitted with Taper Roller Bearing Sheaves and Painted Finish
Alternative Bearings and finishes are available on request
Grease Lubrication on Sheave Pin and head fitting
UK manufactured and tested