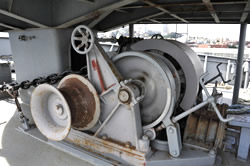 "With a chain diameter range from 16mm up to 120mm, our hydraulic anchor windlass range caters for most lifting solutions"

LMS offer a high quality Hydraulic Anchor Windlass Range which is supplied to suit your specific on deck requirements.
Overview
Whilst not as convenient and cost effective as our electric anchor windlass range, a hydraulic option is superior in terms of power and overall efficiency.
The hydraulic anchor windlass can be supplied in a multitude of arrangements including different gypsy wheel and warping head options, and can be combined with our standard winches to form a complete lifting solution for heavy equipment on board ship.
Our units are pre-assembled making them easy to install and repair or service over time. We also make use of the highest quality materials and ensure that our products are fully compliant with all regulatory standards.
LMS supply on a global basis, so regardless of your requirement or location, we will have an option to suit your specific needs.