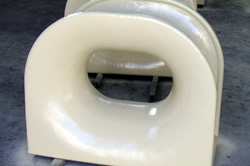 "Made from quality cast steel, our deck chocks can be directly mounted or can be supplied with a base plate to be bolted onto a plinth"
Deck chocks are mounted directly on to the vessel's deck area, acting as a specific guide for mooring lines.
Overview:
The units design means that abrasion on the rope is kept to a minimum which reduces the risk of breakage under strain and prolongs the life of the rope itself. Deck chocks are used as part of a common mooring arrangement and are supplied with ready to install with a primed paint or galvanised finish.
The chock can be fitted directly to the deck or we can supply them with a base for the chock to be bolted onto a plinth.
We offer a wide range of high quality deck chocks which are suitable for most vessel applications.
Please refer to the technical datasheets below which you are free to donwload in PDF file format.
Standard Features:
Cast from high quality steel
Deck mounted, variety of sizes available
Paint primed or galvanised
Compliant with Vis, NS & DIN specifications