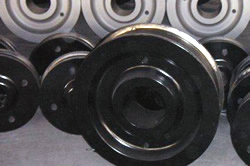 "Lifting & Marine Services has the worthy reputation of being one of the major global sheave pulley suppliers to the marine and industrial sector"
We boast an impressive range of Sheave Pulleys which are used to guide wire or manila ropes and can be used stand-alone or part of a bigger system. Whether you are looking for a product for the marine industry of general industry, our extensive range means that we are sure to have a product that will suit your needs.
And if it is a product that we don't currently stock, our expert bespoke manufacturing service means that we will be able to fabricate to your exact specification.
To find out more about our range of Sheaves please click on one of the product categories below: