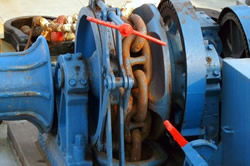 "Our range of windlass anchor winches can be combined with our traditional winches to provide a total 'on deck' solution"
From the industrial revolution to more modern times, the Windlass Winch has been used in the coal mining industry as the main lifting mechanism for transporting personnel to the coal face.
In the marine industry, although essentially the windlass can be used to lift any heavy equipment, they are primarily as an anchor winch, lifting and returning heavy anchors to and from the seabed. They can also be used in the fishing industry to lift large fishing nets.
Lifting & Marine Services offer a range of high quality electric and hydraulic drive windlass specifically for this application. Our windlass range can also be combined with our standard winches to offer a comprehensive lifting solution on deck.
We also offer communication systems allowing you to operate our winches either manually or remotely courtesy of our high quality control and cabling systems.
You can download our Deck Machinery Brochure by clicking here .
TTo find out more about our Windlass Anchor Winches please click on one of the product links below. The pages will provide you with a wealth of information about our winches including technical specifications and arrangement diagrams.