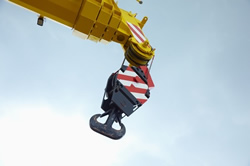 "A double hook design which is commonly used in heavy lifting applications, our Ramshorn Hooks are forged from high quality steel making them extremely durable"

Ramshorn Hooks are designed specifically for lifting heavy loads and are commonly used throughout the marine lifting industry.
Overview:
The twin hook design makes it ideal for use with two webbing slings – this design assists greatly with load distribution, prevents any lifting sling damage and avoids choking at the hook. Ramshorn Hooks are commonly used with heavy lifting cranes and are found extensively in container and shipping ports.
Forged from high quality steel, our hooks can be supplied with safety catches if required and shank lengths can be forged to your particular specification to allow for machining requirements. Our hooks can be supplied as a forging only or we can machine them to your exact requirements. We can also manufacture the full assemblies complete with nut and collar.
The size of the hook profile required is directly related to the SWL and drive group of the crane. Please refer to our technical datasheets below for further information.
Our Ramshorn Hook range is supplied under two DIN specifications – DIN 15402 and DIN 15402B.
Note that all Lifting & Marine Services hooks can be supplied with proof load test certificates and material certification to 3.1 and 3.2 levels of traceability.
Key Features:
Enhanced load distribution
Ideal for use with webbing slings
Suitable for heavy lifting applications
Variety of supply options available
Shank length can be forged to your specification