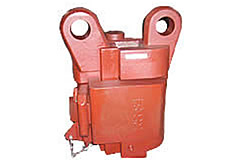 "A carpenter stopper is used extensively in the marine industry to provide a temporary grip on wire ropes or cables without slippage"

Cast from high quality carbon steel and benefitting from a durable and rugged design, our Carpenter Stoppers are engineered specifically to grip or hold steel wire ropes without causing kinks or damage to the rope itself, and thus preventing slippage which could otherwise cause injury.
Overview
The wire cable or rope sits inside a cast wedge which is manufactured specifically for the specified wire rope size. As the wire tightens under load, the movable wedge slides deeper into the tapered housing, causing the cable to grip tight. Though the lid of the carpenter stopper is securely latched with a locking pin while being used, the cable can be removed under tension by releasing the latch on the hinged lid. Rigging bridles can be attached to our stoppers through the shackle holes provided.
For ultimate safety, our carpenter stoppers are proof loaded to double the safe working load of the wire rope or cable being used. We offer a standard range to suit wire rope / cable from 8mm to 160mm although larger capacity units can be manufactured for you on request. Our stoppers are popular throughout the marine and offshore industry as part of a wider lifting and rigging solution.
Note:
Each wire size requires a different carpenter stopper – the unit is manufactured specifically for the particular wire thickness
Please also refer to the PDF attachments which provide useful technical information and are free to download.
Key Features
Designed for one man operation
Portable, safe, reliable and versatile
Proof loaded to double the SWL of the cable or rope
Made to suit wire size from 8mm to 160mm diameter
UK manufactured
100% tested and certified
Shackle holes provided for rigging bridle if required