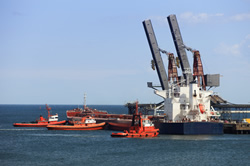 "Escort Pull Back System – an ideal solution which can be deployed when a traditional emergency towing system is not available"
If a stricken vessel is in need of urgent recovery and there is no emergency towing system available, then the Escort Pull back System supplied by Lifting & Marine Services Limited is the next best thing.
Overview:
Our Escort Pull Back Systems from LMS provide equipment kits for both Tug and Tanker operators.
Kit 1 caters for a dead-weight tonnage (DWT) of between 20,000 to 50,0000 tonnes. Kit 2 caters for dead-weight tonnage in excess of 50,000 tonnes.
Each kit contains a fairlead chock, deck bollard or strongpoint bollard. Under deck stiffening is vailable on request. As with the majority of our equipment, we can supply our system with a Class Type Approval Certificate.
For more information please download our Escort Pull Back System Technical Specification Sheet which is available in PDF file format.
Standard Features:
Designed to recover stricken vessel when traditional emergency towing system not available
Equipment options include 20,000m to 50,000 DWT and grater than 50,000 DWT
Under deck stiffening as requested
Class Type Approval Certification if required