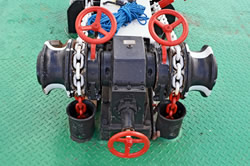 "LMS are expert suppliers of deck machinery including winches, windlass and capstans which can be electrically or hydraulically powered"
Lifting & Marine Services Limited offers a high quality range of winches, windlass and capstans to cater for all your mooring needs.
We can supply you with a tailored solution to meet your every day needs and can combine products in certain arrangements to provide you with a total solution.
Our products are electrically or hydraulically powered as standard and some also have a pneumatic option. We also supply communication systems, which gives you complete control over our products and allows you to operate our winches, windlass and capstans remotely if required.
The following pages include a wealth of details about our products including technical specifications and arrangement diagrams which are you are free to download (in PDF file format).
You can also download our Deck Machinery Brochure by clicking here .