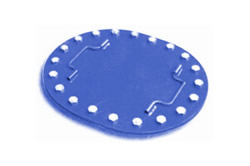 "LMS supplies Ship Manholes and Inspection Covers that can be supplied in both stock and custom sizes and are manufactured from the finest materials"

Our Ship Manholes & Inspection Covers provide you with simple and quick access to critical areas of the vessel.
Overview:
For example, our covers provide quick access to critical areas of the ship including fuel tanks and water tanks.
The manholes are supplied to be flush fitted or slightly raised on the deck and they provide a watertight access solution. As with the majority of Lifting & Marine Services products, we offer ship manholes and inspection covers which can be custom made to suit your exact requirements.
Manufactured using high strength carbon steel, our covers are kept watertight courtesy of a high quality rubber gasket to ensure there is no leakage. We offer both round and oval options in a boiler plate design with bolts protruding above the cover.
Our covers are supplied in compliance with all regulatory standards.
Please refer to the key features of our ship manholes and inspection covers below:
Typical Features:
Oval stock sizes: 15″ x 23″; 18″ x 24″
Round stock sizes: 18″, 20″, 22″, 24″, 26″
Custom sizes available on special request
All sizes can be supplied in the following configurations:
Boiled plate design with bolts protruding above covers
Raised Bolted Plate design
Flush with totally smooth cover, for mounting flush with the deck