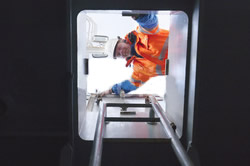 "Custom-sized industry standard Ship Hatches to meet a broad variety of shipboard requirements, all manufactured to the highest possible standards"

Our high quality range of ship hatches are manufactured from the finest materials Lifting & Marine Services Ltd offers a comprehensive range of Access Hatches & Manholes to cover the majority of marine applications.
Produced using quality materials including mild steel, aluminium, stainless and high strength steels, our range is produced to the highest specifications and a custom made to your specific requirements.
Our products are manufactured to international standards are fully scaleable for the application intended. All our products are supplied primed or with a paint finish.
To find out more about our Ship Hatches Range, please click on one of the product links below: