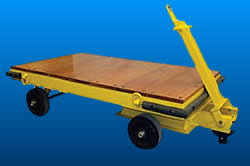 "Ideal for use on offshore oil platforms and support vessels, our Explosion Proof Floor Trolleys are designed to your individual needs"

Lifting & Marine Services Ltd offers a fully bespoke design and build service for Explosion Proof Floor Trolleys.
Overview
It is not just a case of coming up with a perfect trolley design – we also need to take into account your working environment. Which is why our trolleys are not only designed to the highest specifications – we also take into account the floor plan of the environment in which the trolley will be used.
Our trolleys are constructed from structural steel sections which are shot blasted before being painted. Paint finishes can be to customer requirements. The wheels are made of hard rubber, which are 'non-conductive' – an anti-static option is also available on request. The trolley bed which is made of wood is treated and made flame retardant before use and rubber bumpers are added to the ends and corners of each trolley to promote further protection.
Our steering mechanisms are relatively maintenance free, courtesy of grease pack ball bearings. Four wheel steering mechanisms are spark free due to the utilisation of stainless steel pivot pins and phosphor bronze bushes. The trolley can also be supplied with lifting eyes or lugs. Parking jacks can also be included for securing the trolley when not in use.
Our floor trolleys are ideal for oil rigs, offshore vessels and support barges.
Key Features
Structural steel design
Flame retardant timber floor bed
Non-conductive rubber wheels
Protective end bumpers
Sparkproof steering mechanisms
Lifting lugs and parking jacks if required