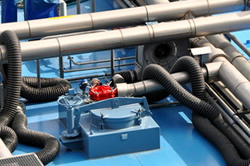 "A comprehensive range of ship access equipment including high specification doors and hatches. All our products are produced to your specification"
Lifting & Marine Services Limited offers an extensive range of high quality ship access equipment including:
Ship Doors
Ship hatches, Manholes & Inspection Covers
Our products are manufactured using the highest quality materials which include mild steel, aluminium, stainless steel and high strength steel. All the products in our ship access equipment range are produced to our clients individual specifications.
Scaleable Solutions:
Our products are not only custom built but scaleable too. Regardless of whether your require equipment for a large container ship or a small fishing vessel, Lifting & Marine Services Ltd can cater for all your supply needs.
We offer the full spectrum of supply, from basic manholes and inspection covers to high pressure doors and cargo hatches. Regarldess of yoru requirement, LMS will offer a solution which will be of the highest quality and specification possible.
To find out more about our extensive Ship Access Equipment Range, please click on one of the categories below which will take to you dedicated pages about the product and provide you with more detailed information.