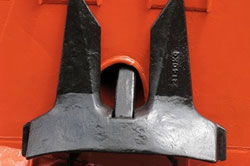 "An established product in the market place, our AC14 range of durable cast iron steel anchors are known for their versatility and are suitable for all types of ship vessels"

Lifting & Marine Services Limited offers a high quality range of AC14 anchors which are available ex-stock for immediate supply.
Overview:
The AC14 anchor is known as a Class E anchor which characteristically has a short, almost square shaped shank with short, thicker stabilisers and is hinged at the rear.
Standing for 'Admiralty Class', the AC14 was developed originally by the Royal Navy and has earned a worthy reputation as an easy to use and reliable anchor for shipping applications.
Nowadays, it is used extensively in the mooring, merchant and offshore industry and is known as a high holding power anchor (HHP). The anchor which is cast from high quality steel can be supplied as a stockless or fully balanced unit and with a range of weight options from 250Kg to 7500Kg.
If you are looking for an anchor with great versatility coupled with high holding strength, then the AC14 anchor is an excellent choice to suit your needs and can be supplied to you in a galvanised or coloured finish.
Please note that our anchors can be certified by all the major classification societies.
Key Features:
Made from cast steel
Weight range from 250 Kg to 7500 Kg
High holding power
Can be supplied stockless or fully balanced
Galvanised or coloured paint finish