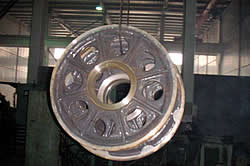 "Sometimes standard and industrial sheaves are just not strong enough. LMS supplies a range of heavy duty sheaves which are up for the job"

Our range of Heavy Duty Sheaves are specially produced to cater for the most demanding jobs.
Overview
Lifting & Marine Services Limited produces heavy duty sheaves which are cast from the finest quality materials.
Many of the items we supply include cut-outs to reduce the overall weight of the unit without impairing performance in anyway. Suitable for both manila and wire ropes and accommodating a diverse range of diameters, our sheaves are produced to meet the requirements of working at high safe working loads.
As with our entire sheaves range, a complete custom bespoke service is available to you, where we produce to your individual needs. Our heavy duty sheaves are supplied with a galvanised or powder paint coated finish as standard. Our sheaves can be used in traditional marine applications and in more typical industrial applications. Either way, LMS can fabricate units for you which meet will exceed your expectations.
Key Features
Huge range of supply
Suitable for both wire and manila ropes
Wide coverage of capacities, diameters, line sizes and bearing types
Bronze bushed with roller or tapered roller bearings
Available finished bore, common bore
Galvanised or powder paint coated finish
Full bespoke service available