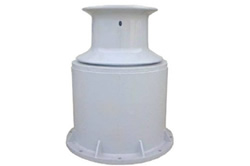 "Vertically mounted and with a warping head which is electrically or hydraulically driven, our Capstan Winches are manufactured to the highest quality"
Our Capstan Winches provide an excellent mooring solution for ropes, hawsers and wire cables on board ship and we offer electric, hydraulic and pneumatic drive options.
About Capstans
Capstan deck winches have been around for a long time – over 500 years to be precise.
Originally constructed in timber with protruding bars which were used to manually turn the drum, the use of capstans have evolved considerably over the centuries and are common place on board heavy shipping and domestic vessels alike.
Today, Capstan Winches have their own drive system which is normally electric, hydraulic or pneumatic. This system drives the warping head which houses the torque-transmitting gear. The motor is normally situated below deck although we can house it in the warping head on request.
The capacity of a capstan is dictated by the nominal rope pull and related rope speed. Our range also includes capstan towing hooks which are essentially quick release hooks.
To find out more about our Capstan Winches, please click on one of the product links below. The pages will provide you with a wealth of information about our winches including technical specifications and arrangement diagrams.
Note:
We do not include details of pneumatic drive options on this website but can provide you with detailed prices on request. Contact our sales team for more information.