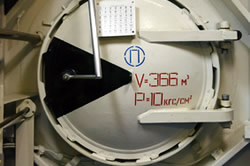 "For use in sensitive locations, our range of heavy duty high pressure doors are manufactured to the most stringent standards to ensure that your safety is guaranteed"

LMS can supply high pressure doors which are either manually or hydraulically operated LMS is the pre-eminent supplier of High Pressure Watertight Doors for the deep water sector.
Overview:
Designed for pressures in excess of 100′ (30.5m), the doors are usually are normally installed and supported by the most stringent quality assurance standards, and in many cases are subject to special manufacturing processes due to the application intended.
Typical applications include protection for ship power plants, high-pressure chambers, hydro-electric plants and diving/decompression chambers which are often found on oil platforms and support vessels. Due to their sensitive locations, high-pressure doors often require much more complex operating equipment – this can include requirements to be explosion proof or operated with intrinsically safe controls. We offer both sliding and hinged door are available with either manual or power operation.
LMS can supply both manually operated and hydraulically operated doors for most marine applications.
We also fabricate these doors utilising the highest quality materials and like all our ship access equipment, our high pressure doors comply with all international regulations.
Typical Door Features:
Heavy duty construction
For pressures exceeding 100′ (30.5m)
Manually or hydraulically controlled
Specially manufactured to intended specification and standards
Hinged and sliding options available
Can be watertight and explosion proof