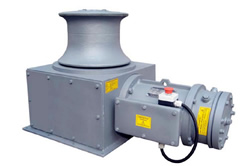 "Supplied with a magnetic disc brake failsafe system, our electric capstan winches can be operated manually, by joystick or remotely"

Our Electric Capstan Winches are supplied with a number of high quality features to cover all your operating needs.
Overview
A capstan is mounted in a vertical position on deck. The warping head in this case is driven by an electric motor. The torque transmitting gear is housed in the warping head and the motor is located below deck. The necessary capacity results from the nominal rope pull and the related rope speed. Upon special request, the motor can be completely housed in the warping head.
Our capstans are supplied to the highest possible specifications and meet all current regulatory operational and quality standards.
Electric Capstan Winches – Product Features
Electric Magnetic Disc Brake Failsafe
Motor: IP56 or Ex
Planetary Gear Box
Control Panel: Foot Pedal, Joystick or Remote
Bi-Direction with Emergency Stop
Options include Variable Speed by Frequency Invertor Control