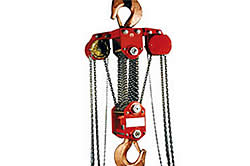 "Suitable for operation in the harshest working environments, our Hook Suspension Chain Hoists benefit from a proven design"

Built to a high specification and of a quality design, Lifting & Marine Services Ltd supplies Hook Suspension Chain Hoists to operate in the toughest and most hazardous working environments.
Overview
Individually tested and manufactured in the UK from the finest quality materials, our chain hoists are supplied available with a load capacity of 0.5 tonnes and upwards. An overload clutch is also included as an added safety device.
LMS has the ability to produce Hook Suspension Chain Hoists to your individual specification with material certification available on request. Our hoists are supplied with solid aluminium bronze wheels – hook options include solid bronze and bronze coated. Our explosion proof hoists are designed to operate in high risk working environments so they are ideal for use in the oil and gas industry as well as the chemical and petrochemical sector.
About Stainless Steel Hook Suspension Chain Hoists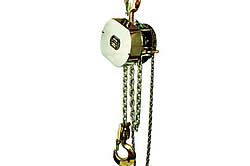 Stainless steel hook suspension chain hoists can be supplied with a special braking system for subsea operations As an alternative, our Stainless Steel Hook Suspension Hoists are designed and manufactured particularly to operate in environments where corrosion is an ongoing problem, the nuclear industry being one good example.
The hoists can also be supplied with special braking components so that they can be operated safely in underwater and sub-sea applications.
Please refer to our datasheet in PDF file format which will provide you with useful technical information.
Key Features:
Smooth and efficient operation
Supplied with Overload Clutch
UK manufactured plus 100% tested
Material certification available on request
Hook options include solid bronze and bronze coated
Solid aluminium bronze wheels
Stainless hoists can be supplied part of full stainless dependent on application