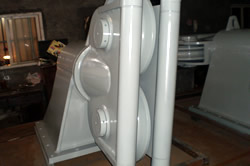 "Utilising the highest quality steel, our Swivel Head Fairleads are designed as a long life solution for ship deck applications"
Our Swivel Head Fairlead Range comes with a variety of standard and optional features.
Overview:
The fairlead is designed for a breaking strength of wire with 90° warp on the sheave and +/-90° rotation of the swivel head. The unit is fitted with sealed and grease lubricated Timken roller bearings and the roller has hardened rope groves to promote longer life. The guide roller is removable and the swivel head fairlead comes with a weld down base.
Constructed from high quality steel the fairlead is supplied primer painted making it ready for vessel installation.
All our marine fairleads are supplied with certification and can be to your particular requirement (ABS, BV, DNLV, LR, CCS)
Standard Features:
Designed for breaking strength of wire with 90° wrap on sheave and +/- 90° rotation of swivel head
Sealed grease lubricated Timken tapered roller bearings
Hardened rope grooves for longer life
Weld down base
Removable guide roller
Optional Features:
Tail Sheaves / Tail Rollers
Bolt down base
Load monitoring system
Special sheaves for high performance synthetic ropes
Paint to your specifications
Third party certification