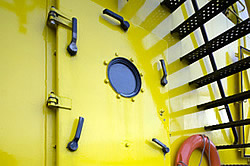 "Lifting & Marine Services Ltd supplies a wide range of ship doors suitable for all Marine applications and at the highest possible quality too"

Our ship doors form a major part of our ship access equipment range Lifting & Marine Services Ltd draws on its many years of dedicated experience in the marine equipment supply sector, to provide a range of high quality Ship Doors which form an integral part of the company's ship access equipment range.
Manufactured utilising the highest quality materials, including steel, aluminum and stainless, our entire range is custom built to our clients particular and exacting requirements. Our extensive and high quality product range, like the majority of the marine equipment we supply, is fully compliant with industry standards and are 'ready to fit'.
To find out more about our Ship Door Range, please click on one of the product links below: