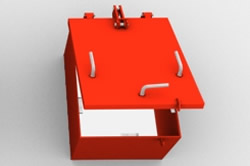 "Flush deck hatches provide unobtrusive access to the ship on deck and are supplied in accordance with all regulatory standards"

We can supply deck hatches which are flush to the deck itself, or raised Flush Deck Hatches provide excellent and speedy access to lower compartments of the ship or vessel with a flush rather than raised finish.
Overview:
This is of course is beneficial, especially on a busy ship deck where potential tripping points are widespread. A flush hatch fitting alleviates this problem to a great extent without a need to compromise on quality or specification.
Our flush deck hatches are manufactured using the finest materials and the top cover can be supplied in mild steel, aluminium or stainless steel.
Lifting & Marine Services can offer a wide range of supply options for flush deck hatches and watertight hatches.
Please refer to our detailed list of supply options below:
Typical Features:
Hatches installed with covers flush with the deck
Hatches installed with covers raised above the deck
Closure secured by: Drop Bolts; Flush Bolts; Raised Dog Handles; Flush Dog Handles; Single point
Quick Action wheel or lever operation below and Flush Hex-head or Tee Slot
single point activation on top of cover
Coaming height required to tie into ship structure
Hatch cover material: mild steel, Aluminum or Stainless Steel
Cover hinged or not hinged
Cover hinged with Spring Balance