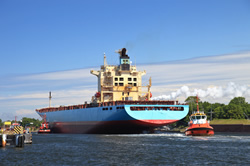 "LMS offers a high quality and specific emergency vessel towing system design where ship recovery is only accessible from the rear"
Sometimes, emergency vessel towing can only be made from the rear. Fortunately, Lifting & Marine Services Limited has an emergency towing system designed specifically for this scenario.
Overview:
The system, which is supplied in kit form, includes a variety of component parts – these include a Storage Drum, Towing Pennant, Retrieval Wire, Strongpoint Fairlead, Messenger Line, Withdrawal Line, Pick-Up Line, Buoy, a container for the pick-up gear and a pedestal/warping roller.
All are supplied and produced from the finest quality materials.
Many of these individual products are available for purchase separately and information including individual specifications can be found in further sections of this website.
Delivering Benefits include:
Fire safety
Towing wire on a storage drum
Combined strongpoint and fairlead
Type approved
For more information please click on one of the two document icons Below – Download 1 shows the equipment arrangement and Download 2 provides a comprehensive list of the equipment with specifications – all files are in PDF file format.