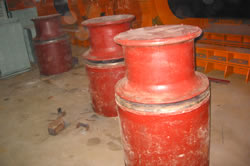 "With a number of configurations combining horizontal and vertical rollers, our Pedestal Fairleads are fabricated from high quality cast steel for extra durability"
Complete with a primer paint finish our Pedestal Fairleads (also know as Warping Rollers) are immediately ready for any vessel installation.
Overview:
Cast from the finest quality steel for added durability, our pedestal fairlead range utilises a combination of horizontal and vertical rollers to give you a comprehensive solution for your needs.
Designed for a breaking strength of wire 180° wrap on the roller, these fairleads come with lubricated bronze bearings and the roller is heat treated for a longer working life. Our units are also supplied with a weld down base (a circular base can be supplied as an optional extra). We can also supply pedestal fairlead rollers which are suitable for use with synthetic ropes.
All our marine fairleads are supplied with certification and can be to your particular requirement (ABS, BV, DNLV, LR, CCS)
Standard Features:
Designed for breaking strength of wire with 180° wrap on roller
Grease lubricated bronze bearings
Heat treated roller for longer life
Weld down base
Heavy duty cast steel construction
Optional Features:
Custom mounting bases
Special rollers for high performance synthetic ropes
Paint to your specification
Third party certification