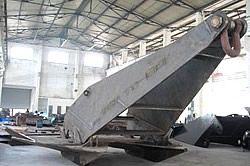 "Relatively new to the market place, the embedment anchor is a very high specification anchor. With its advanced design, it is engineered to reach the ultimate holding capacity"

Embedment Anchors are an Ultimate Holding Capacity (UHC) anchor. It has one of the highest holding powers of any anchor currently on the market and is an excellent choice for heavy marine vessels and heavy industrial moorings.
Overview:
Embedment Anchors can be used in a variety of applications including the offshore industry and even for anchoring offshore wind turbines. The anchor offers deep penetration and with its plough shaped shank and streamline design, this results in less resistance to penetration and retrieval. The hollow anchor fluke can also be ballasted.
The fluke shank angle can be adjusted in 3 positions
32° : for sand, stiff clay and hard bottom soil
41° : for medium clay, loose or medium dense
52° : for mud and soft soil
The anchor can be supplied up to a total weight of 40,000 Kg.
Please also note that our anchors can be certified by all the major classification societies.
Key Features:
Advanced design to reach Ultimate Holding Capacity (UHC)
Deep penetration with plough shaped shank, streamlined design, meaning less resistance
Hollow Anchor Fluke can be ballasted
Rigid construction allows high point loads on fluke points
Weight up to 40,000 Kg with class certificate