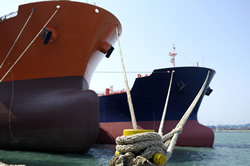 "Designed specifically to guide mooring lines on deck, our Panama Chocks are cast from high quality steel. We offer deck and bulwark mounted options in a variety of sizes "
Panama Chocks (also referred to as Panama Bows) are used specifically for the guidance of rope mooring lines on board a large ship or vessel.
Intended for heavy duty use, the chocks are manufactured from high quality cast steel in various grades dependent upon the particular application and loadings required. Panama Chocks can be either mounted directly onto or into the hull, or alternatively can come supplied with a base plate to be bolted to a plinth.
Lifting & Marine Services Limited offer a wide range of chocks which are deck and bulwark mounted and our range can be supplied to Vis, NS & DIN specifications. Our extensive chock range can be supplied with a paint primer or galvanised finish.
To find out more about the Panama Chocks we supply, click on one of the relevant links below which will provide you with more information including datasheets in PDF file format.