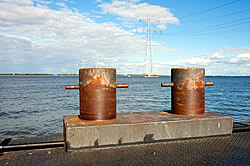 "Double bollards from Lifting & Marine Services Limited are fabricated and can operate to a rope breaking load of up to 160 tonnes"

Double bollards by Lifting & Marine Services Limited – an extensive range which is once again engineered from the highest quality steel.
Overview:
The fabricated construction is based around two steel tubes which are fitted directly into a reinforced steel base – this means that the finished unit can be easily surface mounted to a deck or mooring.
Two ridges are also built into the design to secure the rope and stop it from moving. A rope stopper can also be used with this particular bollard design (a stopper lug is provided).
All bollards are supplied with a primed finish or can be galvanised if so required. Full material certification can also be provided on request.
Please note that our double bollards can also be used in combination with a warping roller – a product that LMS also supplies.
Key Features:
Surface mounted
Reinforced steel base
Operates up to max of 160 tonne rope breaking load
Primed finish or can be galvanised and painted
Full material certification can be provided
Can be combined with a warping roller