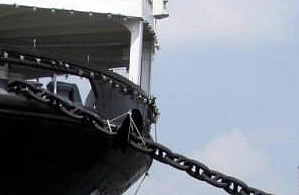 "LMS supply a wide range of mooring chains and accessories to the Marine Industry including anchor chains"

Anchor cables, chain cables and marine chain are a major part of our business and we offer the full range of chain sizes from 5.5mm through to 184mm. These can be supplied in various grades – U2, U3 and Grades 30, Grade 40 Grades 50 and Grades 80 strength.
All our marine chain cable comes in lengths of 15 fathoms (27.5 metres or 90ft) but can be cut to size as required. Chain cable can be supplied self colour, black bitumen, zinc electro plated or galvanised (BS EN ISO 1461).
All relevant links, swivels and shackles, such as the commonly used kenter shackles, can also be supplied allowing the chain to be joined together and to the ships anchor etc.
We also have a comprehensive range of Blake Slips and Chain Stoppers and other chain related deck and ship's equipment. Our marine chain cable is ISO standard or complies with Lloyds Register of Shipping Anchor and Chain Cables Act 1970 and can be supplied, as can all chain fittings, with test certification to all the relevant class societies.
The most common chaing sizes are:
19mm Chain | 22mm Chain | 24mm Chain | 26mm Chain | 28mm Chain | 30mm Chain | 32mm Chain
Stud Link Chain Cable
Stud link chain is strong chain and has a stud across its middle which gives the extra rigidity. It is made to ISO 1704 standard. Stud link chain is normally used as anchor cable chain or chafe chain in offshore moorings. It is sometimes used as a mooring chain.
Stud Link Chain Cable – Technical Downloads
Mooring Chains – Proof & Breaking Loads Mooring Chains
– Proof & Breaking Loads Chain Equipment Table Chain Equipment Table
Weight of Details Weight of Details