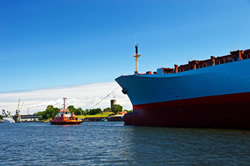 "Designed specifically for situations where recovery of stricken vessels can only be made from the front, our emergency towing system provides you with all the quality equipment you will need"
As part of our dedicated Marine Towing Equipment Range, our forward emergency towing system allows tug and tanker operators the ability to recover a stricken shipping vessel when access is only available from the front.
Overview:
Lifting & Marine Services Limited provides the system in kit form.
The equipment list includes a Smit Bracket, Panama Chock, Chafe Chain (chain length as requested), Fairlead Roller, Towing Shackle and Towing Pennant. For more heavy duty applications we also supply a kit with a Chain Cable Stopper.
Further detail information about these products can be found on dedicated pages throughout this website.
Standard Features:
Panama Chock can be deck or bulwark mounted
Fairlead Roller includes conical base
Towing Pennant with closed speltered sockets
Chain Cable Stopper can be supplied with plinth (optional)
Length of Chafe Chain as per customer request
For more information please click on one of the two document icons below – Download 1 shows the equipment arrangement and Download 2 provides a comprehensive list of the equipment with specifications – all files are in PDF file format.