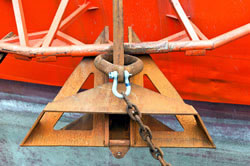 "Made from high quality carbon steel, our flipper Delta Anchor range offers you excellent efficiency with superb high holding power characteristics"

The Delta anchor is a HHP anchor (high holding power) and benefits from an open construction which makes it ideal for use in all types of soil.
Overview:
The streamlined design allows for quicker penetration and a shorter drag distance and offers outstanding stability – as there is no rotation, the anchors holding performance is not impaired in any way.
The Delta Anchor is used extensively in the global offshore industry and dredging industry and has earned a reputation as a high quality performer.
Lifting & Marine Services Ltd offers a range of flipping Delta Anchors from 300 Kg to 32500 Kg.
Our Delta anchors can also me certified by all the major classification houses.
Key Features:
Range from 300 Kg to 32500 Kg
Adjustable Fluk / Shank angle from 35° to 50°
Highly efficient when comparing anchor weight to holding power
Streamlined open construction reduces drag and quickens penetration
Outstanding stability