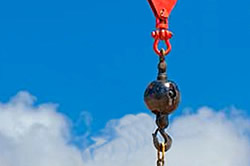 "Manufactured and tested in the UK, our crane swivels are designed to operate in the harshest working environments"

Crane swivels can be used in offshore and onshore applications – they are designed specifically to bear the weight of the load and still allow it to safely rotate rather than twist.
Overview
Lifting & Marine Services Ltd designs crane swivels to our customer's specific requirements.
To ensure the correct tension in the wire rope system, we produce the swivels to the exact weight requirement. We have the flexibility to produce units to any size or safe working load – we can also produce to specific temperature requirements, which is especially important to clients in the offshore industry where harsh operational environments are commonplace.
Importantly, LMS has the experience in both design and production, to supply crane swivels to you regardless of size, specification or volume. All swivels are made in the UK and are 100% tested and certified. We are also pleased to work with 3rd parties through the design, manufacture and testing stage if so required. Examples of third parties include API, ABS, Lloyds, DNV & Germanischer.
Key Features
Ideal for both onshore and offshore applications
Custom design and manufacture
Can be supplied to meet temperature requirements
Can be manufactured to any size or SWL
We offer total flexibility with regard to design and manufacture
We welcome work with third parties (if required)