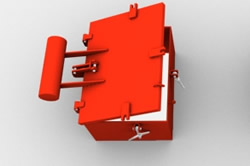 "High quality hatches to provide quick and safe access to watertight compartments on board a ship, offshore platform or similar marine installation"

Our watertight hatches are produced to your specific requirements and can fit flush with the deck or be raised above deck High quality Watertight Hatches from LMS.
Overview:
Access may be required to a watertight compartment on a ship or vessel after a hull breach, where the compartment has been flooded. Watertight hatches are therefore specifically designed to access compartments within a ship which are watertight.
This does not only necessarily apply to compartments within a shipping vessel – it can also include any marine environment where a watertight hatch solution is required. Offshore drilling platforms, containers and other marine structures often have the need for watertight hatches.
Lifting & Marine Services Ltd produce watertight hatches which are manufactured to your exact requirements. We supply units which are available in steel, aluminium and stainless and are delivered as a self-contained unit. The hatches can either be supplied to fit flush or raised above deck onto a raised coaming.
Our hatches utilise a quick action wheel or lever operation for fast access and are supplied in compliance with regulatory standards. All our hatches can be supplied to you with a primed or painted finish.
Typical Features:
Hatches installed with covers flush with the deck
Hatches installed with covers raised above the deck
Closure secured by: Drop Bolts; Flush Bolts; Raised Dog Handles; Flush Dog Handles; Single point
Quick Action wheel or lever operation below and Flush Hex-head or Tee Slot
single point activation on top of cover
Coaming height required to tie into ship structure
Hatch cover material: mild steel, Aluminum or Stainless Steel
Cover hinged or not hinged
Cover hinged with Spring Balance