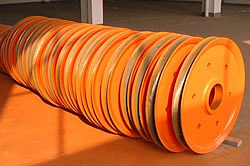 "With our enviable knowledge of production and fabrication in the Marine sector, LMS provides one of the largest ranges of high quality marine pulley sheaves on the planet"

Lifting & Marine Services supplies a huge range of Marine Sheaves for the marine and offshore sector.
Overview
Sheaves are used to guide wire or manila ropes and have numerous applications on board ship. They can be used as a stand- alone system for guiding ropes or in lifting blocks and crane systems.
We produce sheaves to a multitude of different capacities, diameters, wire line sizes and bearing types, making it in possible to list. We advise our customers who have an enquiry to send us the details and we will provide you with the most cost effective supply option.
Most importantly, LMS also has the capability to produce bespoke marine pulley sheaves to your exact specification, regardless of your requirements or safe working load.
Our sheaves are available finished bore or common bore and bronzed bushed with roller bearings or tapered roller bearings. The sheaves are suitable for both wire rope and manila rope covering a wide variety of diameters. We supply our sheaves with a galvanised or powder coated finish.
Key Features
Bronze bushed with roller or tapered roller bearings
Available finished bore, common bore
Galvanised or powder paint coated finish
Full bespoke service available
Huge range of supply
Suitable for both wire and manila ropes
Wide coverage of capacities, diameters, line sizes and bearing types