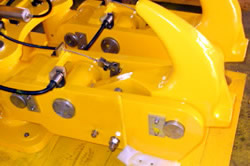 "Our capstan towing hooks are essentially quick release hooks which are also used in the LMS range of emergency towing systems"

Capstan Towing Hooks are quick release hooks which are ideal for safe towing Lifting & Marine Services Limited supplies Capstan Towing Hooks as part of our dedicated capstan winch range.
Overview
The towing hooks have a quick release mechanism which allows for any wire rope or hawser to be disengaged immediately should problems occur (please also see our quick release hooks range ).
The hook can be manually released by pulling the release wire or pushing a button. The capstan towing hook can also be released by remote control with either a hydraulic or pneumatic release system.
Built from high quality materials our towing hooks are approved by all the major classification societies.
Capstan Towing Hooks – Product Features
Classification Society Approved
Manual or remote release
Fast disengagement of wire rope or hawser