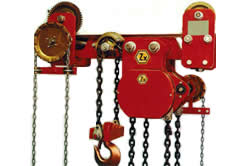 "A quality lifting solution in situations where the beam radius is limited, our Articulated Chain Hoists are tried and tested in the toughest environments"

Articulated Chain Hoists – an ideal solution when the beam radius is limited Lifting & Marine Services Ltd supplies high quality Articulated Chain Hoists which are used in industries such as oil, gas, chemical and power generation.
Overview
UK manufactured and 100% tested, our chain hoists are designed for situations where the beam radius is limited. Benefitting from smooth travel around bends, our chain hoists are supplied with solid aluminum bronze wheels.
With a load capacity of 0.5 Tonnes and upwards, we can supply hoists which are designed specifically for operation in low temperatures. The hooks can be supplied in solid bronze or bronze coated and the chain hoist is supplied complete with an overload clutch. As with all our hoists, material certification can be supplied as per the customer's request.
LMS has the ability to manufacture articulated chain hoists to your exact specification.
Please refer to our datasheet in PDF file format which will provide you with useful technical information.
Key Features:
Smooth operation
Perfect solution where beam radius is limited
Supplied with Overload Clutch
UK manufactured plus 100% tested
Material certification available on request
Hook options include solid bronze and bronze coated
Solid aluminum bronze wheels