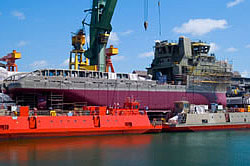 "LMS meets the needs of ship operators who have continual requirements to upgrade equipment on their vessels with high quality replacements"
The life cycle of equipment on board ship varies greatly. Determining factors include wear on the equipment in use and the environment that the ship operates in.
What does not vary is the need for ship operators to regularly upgrade equipment that either suffers from constant wear or requires updating. The operation availability of a ship is critical and therefore the opportunity to upgrade such equipment tends to occur due major refitting works when the vessel is called in to dry dock for a fixed period of time.
As an establish equipment supplier, LMS meet these demands with a diverse range of products designed to high specification which are easy to fit. Many of our products are deck mountable or can be fixed to a plinth which we also supply. Our products are generally paint primed and ready for immediate installation. This is of great assistance when a fast turnaround is required.
Shipbuidling Products
Standard & Bespoke Products
LMS provides the highest quality equipment in accordance with all the major classification societies and can also produce bespoke units at your request.