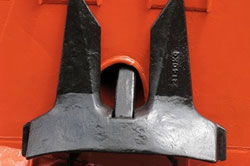 "A snatch block is essentially a pulling block assembly which is used specifically to increase the load pulling capacity of a winch"

A Snatch Block is a pulley system to aid with winching.
The unit is essentially a pulley block assembly which opens to allow the easy connection of a looped rope or cable (known as the 'bight') rather than having the lengthy task of threading the cable. The block itself or 'sheave' is a wheel with a grooved edge which carries the rope or cable. The side plates or 'cheeks' house the wheel assembly.
Using a snatch block can effectively allow you to double the line which in turn doubles the lifting capacity of the snatch block and winch arrangement. A single snatch block or multiple snatch blocks can be deployed in conjunction with a winch to maximise lifting load capacity.
Safety Considerations
Snatch blocks are commonly used in the lifting and marine industry, since they are a simple mechanism to extend the lifting capacity of winches.
However, if used incorrectly, snatch blocks are a dangerous proposition (even potentially lethal) especially when used with hydraulic winches. If the block being used is not of good quality and/or fit for the load bearing capacity of the item being pulled, a hydraulic winch will continue to pull until the cable eventually snaps without warning – this will cause the load and the block assembly to fall at considerable velocity.
The problem is not so evident with electrically operated winches since they tend to have an in-built safety mechanism which will stall the winch if the maximum pull load is reached.
Either way, it is important to ensure that snatch blocks are of a very high quality and are arranged to more than adequately cater for the lifting task in question (hence the use of safe working loads or SWL).