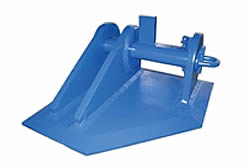 "Used as component part in an emergency towing system, Smit Towing Brackets can also be used in their own right for chain connections on a vessel or barge"
Smit brackets are used as a component part in an emergency towing system or can be used stand-alone for chain connections Lifting & Marine Services Limited supply Smit Brackets which are used mainly as part of an emergency towing system .
Overview:
The brackets can also be used solely for a chain connection on a ship/barge or rig. Manufactured from high grade alloy steel our Smit Brackets work to 100/200/300/400te loadings and suit chain sizes up to 96mm.
The Smit Bracket is a simple yet ultimately, effective design which utlises a sliding pin which locks the mooring chain into place.
With a wide range available, our towing brackets suit the majority fo marine applications including most sized and anchors and mooring chains. All our brackets are designed to be compatible with the breaking load of the chain being deployed.
Units can be supplied in accordance with classifications societies including Lloyds, ABS, BV or DNV. Underdeck stiffening is available on request.
Key Features:
For emergency towing systems and chain connections
Deck mounted
Simple & effective design
Suit chains up to 96mm
Can be supplied in accordance with classifications societies
Underdeck stiffening available on request